KIDD recap
I said it once...I'll say it again...if you think KIDD gallery in birmingham is too hoity-toity for all you younger art hipsters you should give it a second chance. Upon entering the gallery I was instantly greeted and the director even was excited to show and explain a few pieces in the show. Has that ever happened at Hilberry? The thing about KIDD is that you aren't going to find cutting edge installations or any sort of controversial pieces but you will find some solid work there - although I admit some a bit too serious and decorative for my taste. Looking at art you wouldn't normally look at is a good thing sometimes!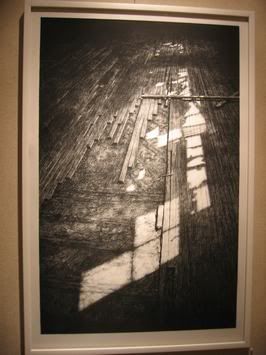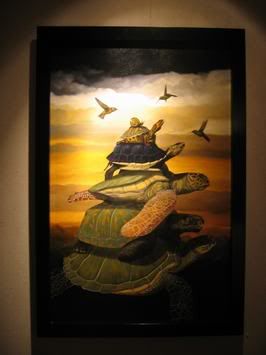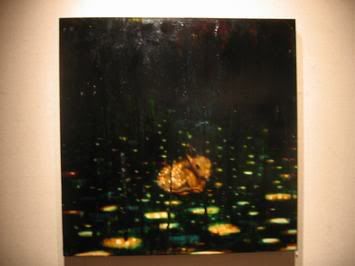 This was a piece I really liked. You can't even see what is going on in the piece in the picture. The artist uses a deer image behind a plexi sheet and then paints the dark values over the plexi. It gives the piece a really neat back lit effect.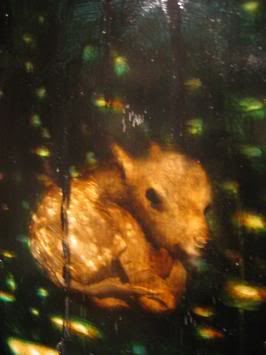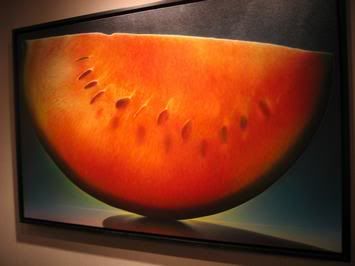 Well...what do you expect for a realism show...there's gotta be some fruit! Of course this piece was not a favorite of mine to say the least.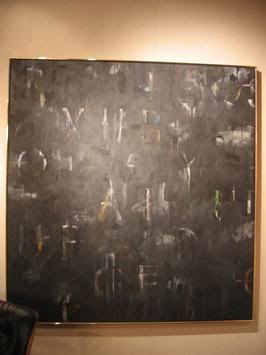 This asian artist uses a different personal interpretation of what realism is in the alphabet - like a form of calligraphic pictures.
Again, this is the same artist who uses plexi to paint the darkness around the dress - which is made up of gauze and paint. (sorry don't remember the name of the artist)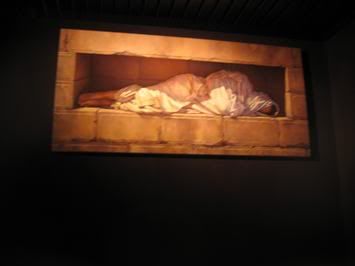 robert schefman...you know him also as a teacher at ccs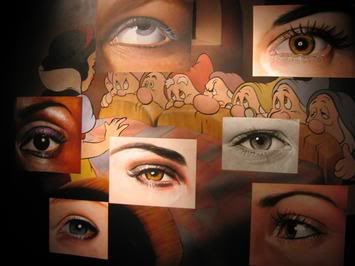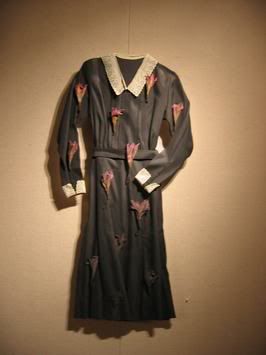 This dress is carved out of wood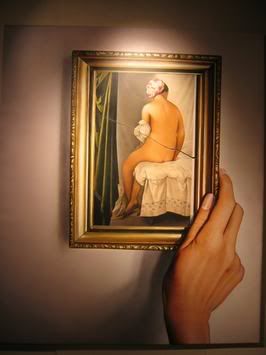 This painting is huge....this takes some patience! Still, not my cup of tea in terms of imagery.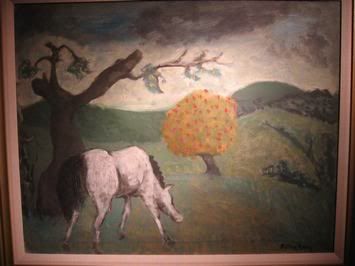 This original Milton Avery piece was only $250,000! wowza!
Another robert schefman painting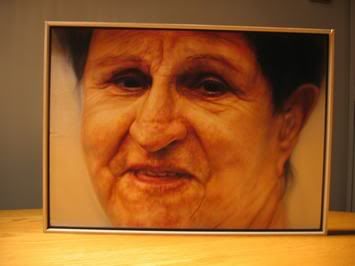 This piece is ben kiel's...although only freshly graduated from ccs, this guys got some crazy talent!
An original Larry Rivers kung-fu-dancing-american-pride piece!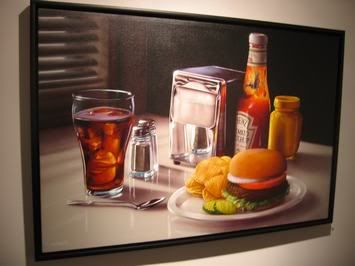 This is Dr. Artenstein's pick of the show. Nothing beats fighting robots and if you think I am kiddin then you've got something coming! (I really am serious...this piece is pretty cool...like a gold framed jesus/religious painting...but instead of fighting saints...fighting robots!)