synergy opening
My predictions are that where 101up and District left off, Synergy will now fill the void. The gallery really does feel like a cross between the two galleries - District because of the space and smaller office-like rooms and 101up because of the connection between gallery owners. 101up's mailing list was even used to promote the event, although I had to ask Andrew (synergy owner) if he had promoted in any other way because the opening was packed- and packed with an older collector based crowd. Not so bad for the new gallery in Berkley! The only obstacle will be convincing artists and gallery goers to include synergy in their gallery hopping routine.
Brian Barr - I was happy to see a couple newer paintings...but a lot brian's work has been circulating since his time at ccs. Brian's a fabulous figure painter but for those who know him and his work, I think we would like to see some new things!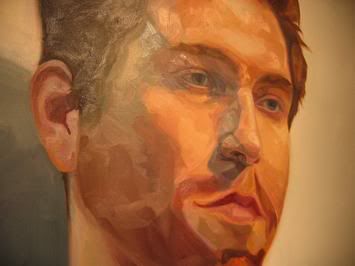 Stephen Deeb - I am not as familiar with Deeb's paintings and honestly I can't really say what I thought because the opening was so packed! I did notice in a detail shot that the paintings have small postcard-like elements of faces and landscapes.