motor city art night
Boy did you miss out if you weren't at Motor City last night! I was expecting photography from Maria but let's just say you got a whole lot more! This is what you saw as you entered the bar.
At first I was disappointed - a booth that you had to be invited in...and I was hoping that I wouldn't miss what the show was!
Well, finally I got invited in. There was an instruction sheet on the wall and a bondage head harness. Step one: strap invited person's head into straps.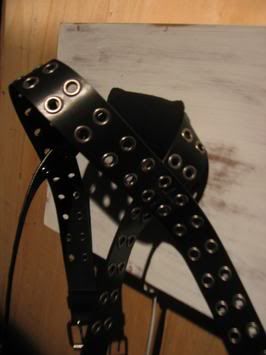 Step 2: put head phones on invited one. (the sounds were of a moaning woman)
Step 3: pull back screen - now remember the person doing the work is standing directly behind the invited one and there isn't a whole bunch of room. And this is what the invited sees! A good interactive show...and a great way to meet someone new at the bar!