junior gallery - cincinnati
I had never been to Cincinnati. I had heard some good stuff about the contemporary museum but that is about it. After going to Cincinnati I have mixed feelings about the city but I don't think that in one trip one can really make a true assessment of a town. I do think that from what I saw, there are a couple really good galleries and then some mediocre, crafty galleries and a great contemporary. I would have guessed a bigger artist community but the openings seemed poorly attended and I didn't really bump into many artist types. Maybe I was just early because most galleries had huge spreads of food and beverages out, barely touched.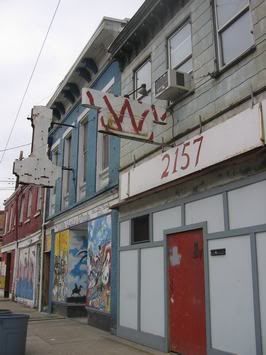 Junior Gallery was really strange. This gallery was in this run down strip of buildings - mostly abandoned far from the other galleries or any real signs of life. The area here was pretty sketchy but after driving around the city and outskirts I found that you would drive into a ghetto and then the next block would be a street of shops and stores with a diverse mix of people. But then you would turn the corner and the projects would appear with some boarded up houses! Very weird, especially since detroit is so segregated into parts and there is almost no revival in detroit neighborhoods. Cincinnati feels like the revival is all over with clusters of small main street downtowns.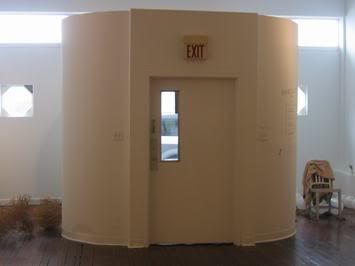 entrance to gallery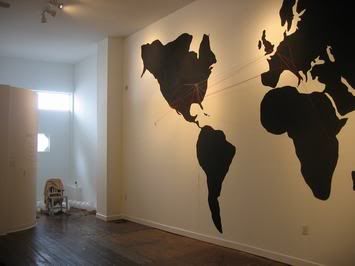 works by ESSEN - simone rubi and nathaniel russell. The project is a collaboration between the two artists who come from different art backgrounds and have worked together to create a whole experience with installations and live performances.
floating tumbleweeds
haircut station with remnants of hair cuttings from opening performance.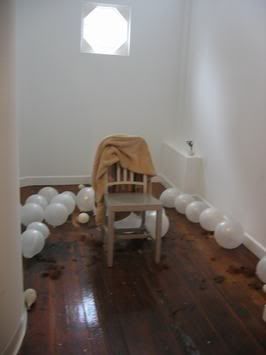 This gallery is a jewel in the middle of a decaying part of the city. Very cool that artists have taken over and started galleries that they run and take pride in showing great art.