cincinnati art galleries
It is always great traveling to a new city and checking out the current art scene. Although it is tough to get a feel for the scene in a few pics, I think that cincinnati is a city much like detroit that has had its struggles with staying alive and rejuvenating but is pushing forward with new development and more artist opportunities. I think that sometimes a city's renewal begins with the artist community and its push to change or cause reflection within a community. Local art is definitely prevalent in the independent shops and cafes.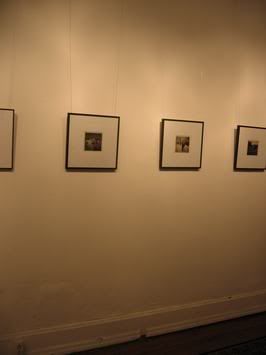 It just so happened that the friday night that I was in cincinnati was the major gallery crawl night. Most of the galleries were on main street but a little bit out of the downtown area. The street appeared almost out of nowhere - in a neighborhood that one street over was a completely different feel and a little run down. This small gallery The Deogracias Lerma Gallery had a photography exhibit. While sometimes I run from photography (not really but like I have said, I find it sometimes difficult to get into) I found this quaint opening interesting. Strange shots of horses...not just typical pretty pony shots but humorous commentary with horses posing as models. The artist is local - Roman Comer...and this was the first time I actually got questioned and told not to photograph the work! I told them that it was for a detroit blog and they kind of seem confused so I decided to leave after taking a cookie:)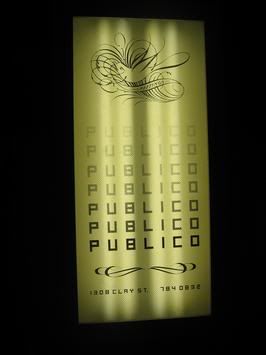 Publico
is my favorite gallery space! The gallery is linked to the contemporary museum and the art academy of cincinnati - which makes for awesome shows and is run by a collective (think CAID or Gallery Project). Two brothers started the space and have since let others on board. They show local kids as well as other international, national and regional talent. In the gallery nothing is ever for sale: I am still uncertain to how they maintain the space - although I think they may live in the above floors. This alternative gallery seems to be pushing the boundaries and setting an example for the gallery district.
view as you enter Publico - old wood floors and hanging ladders on the wall.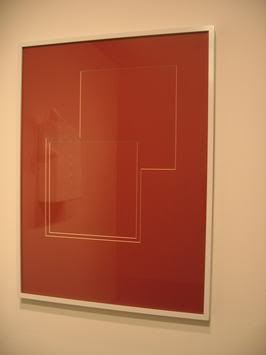 This show featured artist aaron delamatre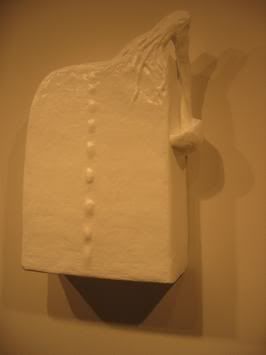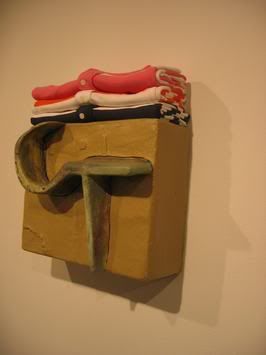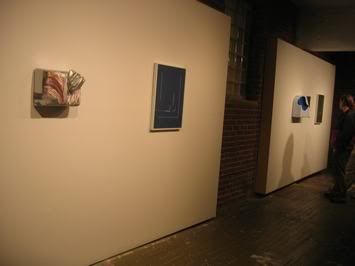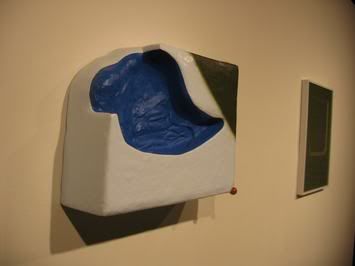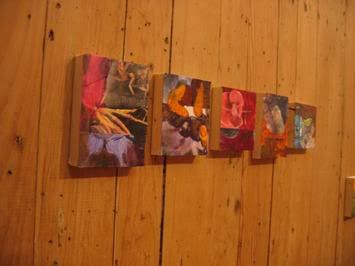 These small colorful paintings were at 1305 Gallery and the show was called "wu-wei 150 small paintings" by matthew miller-novak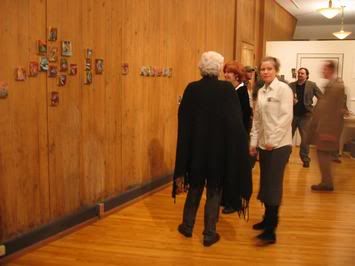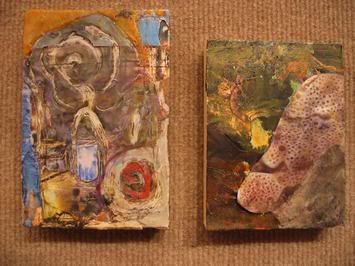 The paintings were actually collages of under-the-sea imagery with dollops of paint here and there.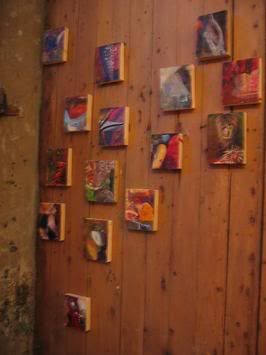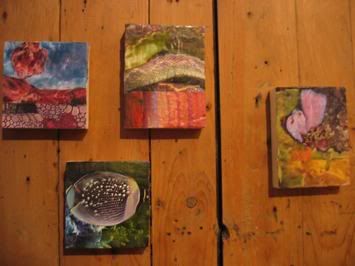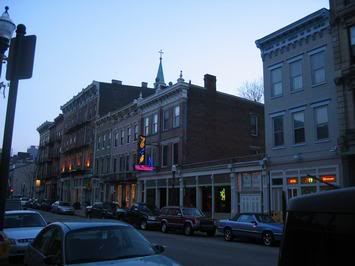 This was main street where most of the galleries were. And when I say "most" I mean about 5 real galleries and then some others that combined art and books and vintage and cafe....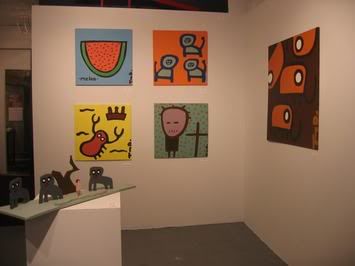 This new gallery downtown, Nicholas Gallery was having their first solo show opening. Although I did not care for the work by Tony Dotson, the owners were super nice and kept offering wine and food. They renovated the space completely and from the pictures shown they did an awesome job! They seemed optimistic about the art scene and hope that other galleries follow into the downtown area.