Forum Gallery at Cranbrook
Unfortunately because of my weekend trip to cincinnati I missed the opening Art Science Fair at Forum Gallery located in Cranbrook (between the museum and artist studios). While they were in the middle of taking down the exhibit I managed to take some pictures and the curators were nice enough to talk about some of the work in the show! Don't miss this Friday's opening: All-Consumed - an exhibition examining subjects of consumption, community, nourishment, and the table as a performance space. YUMMY!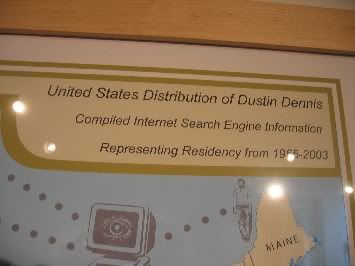 Dustin Dennis created a map charting all the Dustin Dennis' in the country by population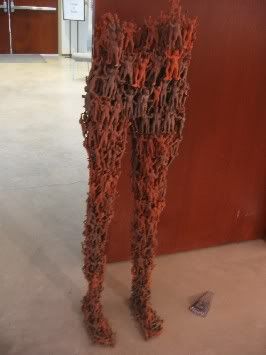 These cast figures of prehistoric men make up this bottom half of this "upright man"
This apparatus is very cool...you harness this on and then it takes 3d pictures of you...the same artist created a headset that has "ears" that extend far out and record distant sound and then the sound replays into your ears - kind of throwing you off balance.
This video is of an imagined pipe system that pumps out yogurt...yummy!
A test tube with a small wooden boat and plant life.