DAM and my bad attitude
Why does DAM have an even bigger gift shop area? I guess they didn't sell enough pizza? If you haven't read my post on the bbac yet then you haven't detected my lackluster art mood. DAM did a good job attracting the older art crowd but I have noticed that they seem to be forgetting about the emerging talent that DAM used to stand behind. I am happy that it wasn't another design show, but this show still seemed tired.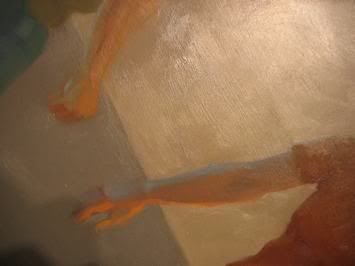 Nice use of color shadows/glazing
Yippee to the non-group show! Nice scale...nice idea...nice carving...but I don't dig on narrative work like this. To me it touches on "art fair sensibility". I honestly think I could have thought differently if I wasn't greeted with a gift shop art display.