anne reinhardt at motor city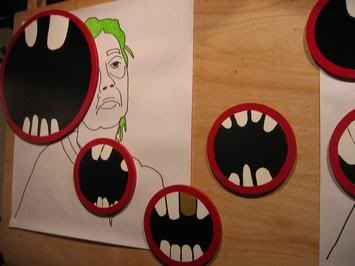 In case you missed motor city this week - here are some pictures of anne reinhardt's work. Large contour prints, some with colored in hair - and wood painted mouths that bubbled around the drawings. A video of the subject played also. The video was hard to make out with the noise of the bar but from what I gathered the exhibit was very personal and featured anne's mother in the drawings and video of recorded conversations.
Is anyone else noticing that motor city is becoming bigger and better? It seems like artists are taking bigger risks and setting up full installations instead of just drawings or studies.