Gorchov, Pfaff, Torreano at Hilberry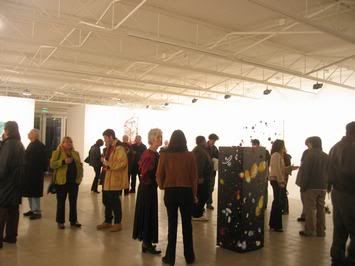 What a difference in Pfaff's work from the show at Lemberg! I didn't really care for her
works at Lemberg
but I do really enjoy her 3-dimensional works at Hilberry! I now see the relationship to her layered paper works to her sculptural pieces. This piece grew from the wall with delicate line drawings that then emerged into wire and steel structures protruding into space. This piece reminds me of
Julie Mehretu
's contemporary works.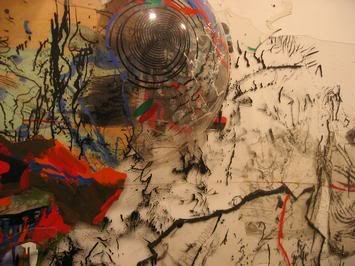 Here are a couple details of the piece but you really have to see it for yourself!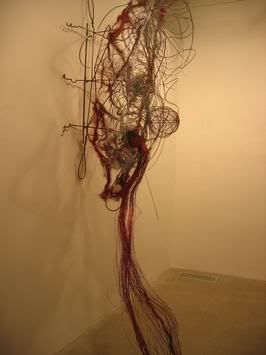 Another Pfaff - steel, mesh and wire.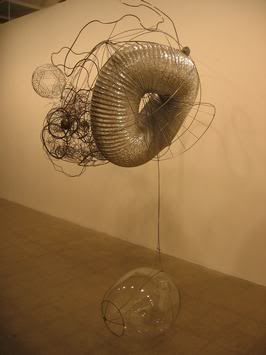 The final Pfaff - wire, aluminum duct, plastic and blown glass. You can own this piece for a small fee of 85K!
This is the work of Ron Gorchov - oil on canvas that is on shield-like stretcher forms.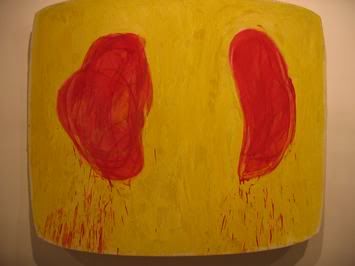 At first this was my favorite piece upon entering the show but I found that after a while it lost my attention. I think I was only drawn to the bold colors. I do like his work but another enlightened viewer told me that his work has not changed at all over his art career. But should that matter? - A lot of artists do the exact same thing for years and years without any real experimentation.
These gem covered works are by artist John Torreano. The above piece was my least favorite and felt like a middle-schooler's science project or at times I thought a wizard was going to pop out of the box!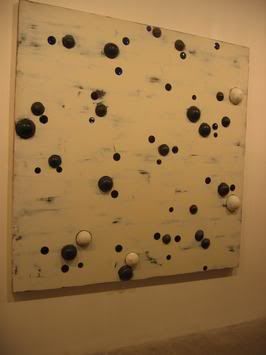 This was my favorite piece! I like the play on surface with 2-D emerging into 3-D form like in Pfaff's works. The gems and balls seem to bubble to the surface and go back into the work with only a hint of scratched color.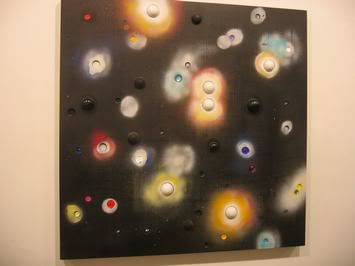 Space Edge Painting, 2004 - this was the most recent of Torreano's works.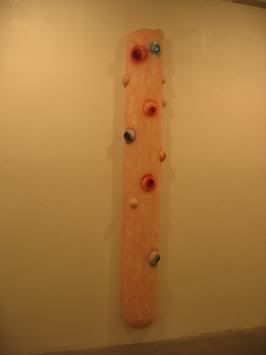 This Torreano painting was in the back room - I hope it wasn't missed because I really liked this piece in the context of his other works. It was a much quieter piece that was like looking at all his works from a great distance.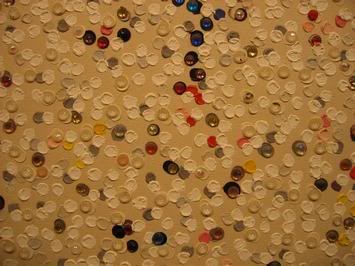 All and all I enjoyed the show at Hilberry...I usually do because she is the only gallery showing current works by artists outside Detroit. I think it is important to stay in tune with the outside art word because in this city we tend to focus on the problems of the city and are not fully exposed to outside art unless one travels. All I can say is that I hope MOCAD opens and lets the artists in the community stay involved. Outside art is important but keeping detroiters in the mix is just as important!