more of ccs...
Besides the faculty show in the main center gallery, down the alumni hallway was an exhibit of ccs staff and administration. It is funny that to me the hallway showed a stronger show than the main gallery...which poses an interesting question about being an artist and becoming a full time teacher: does being a teacher drain you of your talent? I know this isn't a problem with all teachers and it seemed like the some of the artistically stronger teachers were not in the main show like gilda snowden, nancy mitter...isn't clint snider on board at ccs too - where was his work? The work in the hallway was also a cross section of a generally younger staff and a staff very much still involved in the current art community.
harlan lovestone - this was my first time seeing harlan's work and I would like to see more. I know the name...just not a face yet.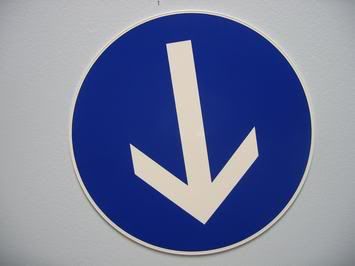 miroslav cukovik - very surprising...a new series? or just experimenting?
graem whyte - I loved this piece...bronze packing chips. very neat...hey graem...wanna sell?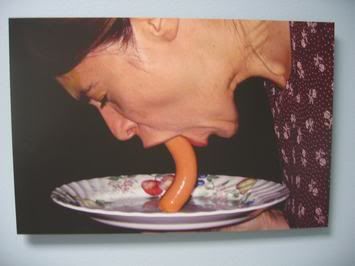 maria pranito - maria's finishing up her masters right now. this print is a big departure from her thickly painted landscapes with stickers of a few years ago. are you still painting or are you doing more photo now?
robert kolinski