CCS faculty show
99% of the time bloggin' is fun. It is just when a computer and files have a mind of their own that using a computer is not fun at all. Since getting this page to load took most of my morning I decided to have "Blank Canvas" do the critiquing. It is also helpful to have another artist review the show because I might not be seeing clearly in my computer rage.

Blank Canvas: When I first walked in to this show, I noticed an immediately different feel than most of the openings I go to around town. The pieces as a whole felt more developed and practiced than the work at younger artists' shows, but they also felt much more stale. As if the artists worked to a certain point and then plateaued - somewhere between 5 and 50 years ago. The sculpture above was one of the younger-seeming works. But it is very kidrobot (www.kidrobot.com) and that is very '90s. Of course, I'm sure the reason for this show's timing was so that CCS faculty could have work up and show off during the Super Bowl. A carefully curated alumni show would have been a much stronger choice.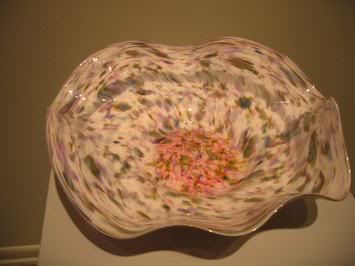 The Ann Arbor Art Fair comes to town.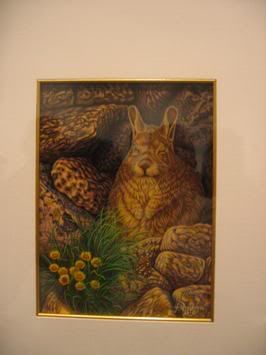 The pieces on display were not exclusively by fine arts teachers, but teachers of all disciplines.


I hope a lot of these were by the cooking teacher. What? CCS doesn't have a cooking program? These are all by teachers in the visual arts? Uh oh ...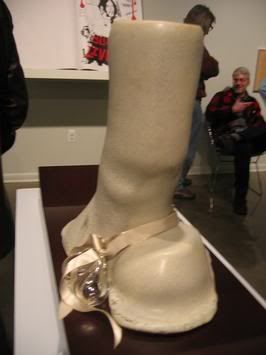 This piece was called "vase with tears," I think. The ribbon and little glass balls seemed like after-thoughts.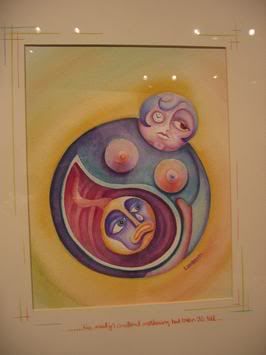 This was one of a couple pieces utilizing womb imagery. It was also one of many pieces that could have used longer - much longer - gestation periods.


CCS has an excellent, if over-exposed, furniture design department and this piece speaks to the apparently highly-skilled teachers in that discipline.


one of the few pieces by the teachers that actually felt like it was made in a somewhat recent era. though it looked a little too hitchcock-film-poster to really interest me on its own terms.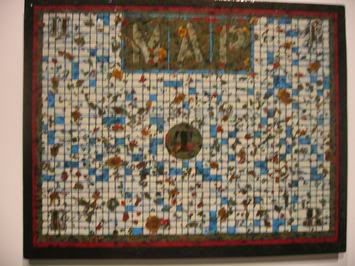 a nice piece from the painting department.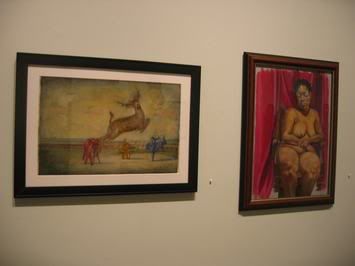 the illustration piece on the left was well done but typical while the portrait on the right appeared hastily conceived.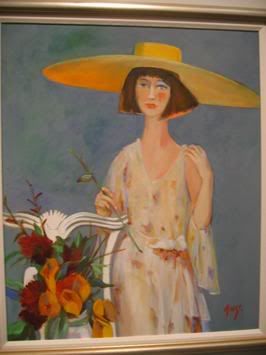 this piece was close to $10,000. I think because it's an antique? oh, no, it's new - it just looks 100 years old ...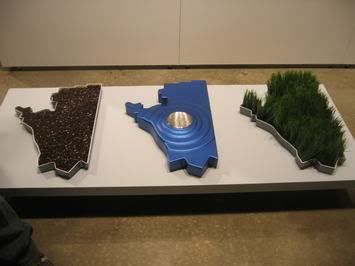 ccs' industrial design side showed up too. and it was, of course, quite clean, developed and finished looking. thanks to mrs. ford, it should stay that way for quite some time.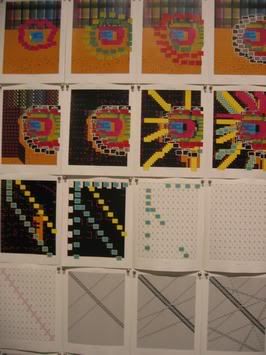 using excel spreadsheets to make art was a cool idea - in the '80s.


please stuff this painting back into its creative womb! it needs more time. or an abortion.
[the comments expressed and written by blank canvas do not necessarily reflect the views of detroitarts blog]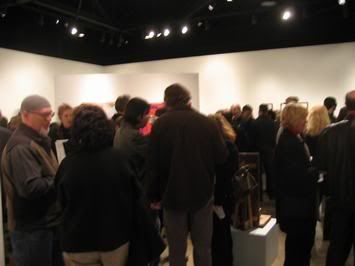 the opening was packed. a group show of fairly old, local artists will do that. they make their kids come.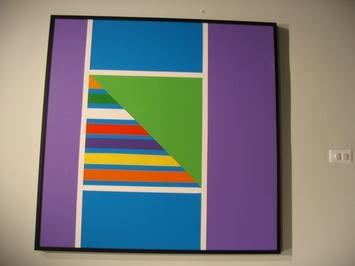 there wasn't much abstraction at the show. you know the classic saying - if you paint realistic when you're young, you have no soul, but if you paint abstract when you're old, you have no secondary art fair income.
The part of the show in the CCS faculty hallway next door to the gallery was much better.
[I, detroitarts, will post and comment on pics of the hallway later]