Falling in love with Romanticism...
Normally Marygrove College isn't at the top of my list when it comes to art exhibits. I think this might be a consensus for others as well. It has always been easier for people to get out to the big art night openings at Revolution, Lemberg, District, and Hilberry. Now there are no excuses to try new venues because let's face it, Detroit galleries are shrinking in numbers! This was my first time at Marygrove and I was pleasantly surprised. After climbing four floors of stairs in a building that resembled and smelled like a historical museum I found myself in the quaint gallery...and looking at the "New Romanticism" curated by Detroit artist Kristin Beaver.
A helpful artist pamphlet accompanied the show (always great to have so you can keep artists straight) where Beaver sums up her sensual memories of her grandmother's house. Beaver remarks, "Art for decoration's sake is acceptable again. Romanticism is not just about the decorative aspects of nature, however. It is about the exotic, unimaginable, the sublime. Each of the artist's work in this show can be seen in these terms."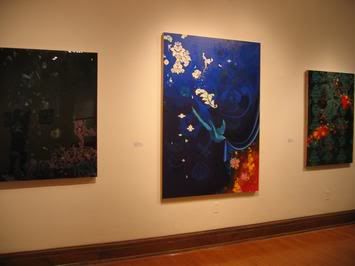 This grouping of luscious paintings are Adrian Hatfield. The two outside paintings (above) are rich with layers of paint, stickers, and other paper pieces that float within beautiful layers of resin.
Hatfield's attention to detail is quite exquisite! Not only does he use decorative painting of flowers and prints between the clear gloss, but he captures amazing realist detail in parts of the painting (middle above).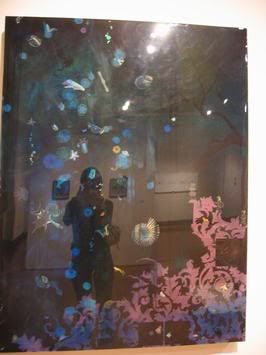 This painting is hard to make out in picture form but is the sexiest "under the sea" painting I have seen! I know I am being funny, but in person it is really fun to look at, especially with the sparkly stickers - this painting could easily go the wrong way and become cheesy or gimmicky but I love the dark mystery of the piece from a far and up close it is when you can discover the details.
________________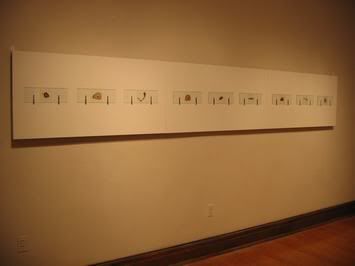 Josh Newth's works also are misleading from a distance because once up close, one discovers small scientific looking paintings of cropped body organs or tumors. The presentation is very sterile as if one was looking into a microscope on a lab table. All pieces are hand painted in amazing detail: no photos here!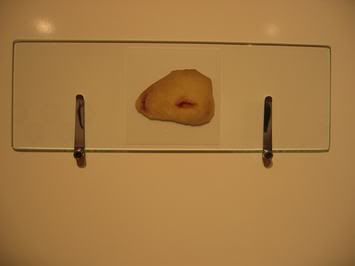 ______________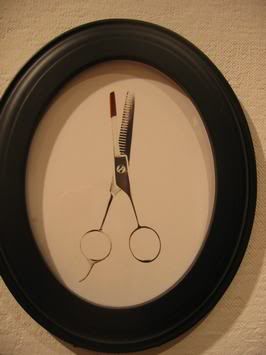 Riva Sayegh's photos really seemed straight from a grandmother's attic. Her prints examined the sweetness of ordinary objects, such as the scissors (above). I like how the prints complimented the show, but I still felt a little like they were a side dish to some of the other pieces.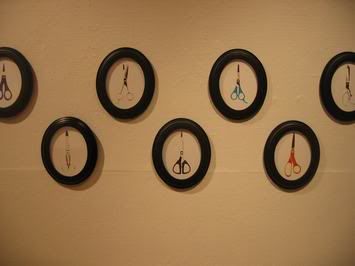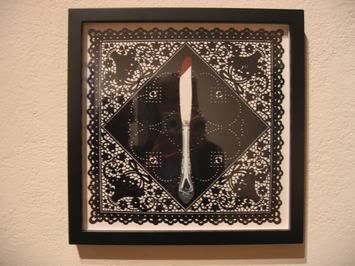 ____________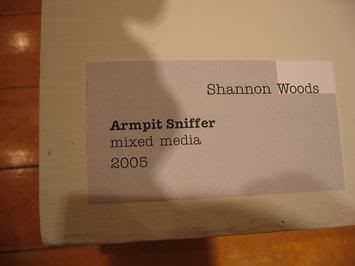 Something that could come in handy...! hahahah...anyways... I enjoyed the sculptural works of Shannon Woods. The clever titles made me chuckle and also helped to balance the clinical unfamiliar feel. These works also seemed to be found objects from a crazy old man's basement. It is as though the pieces were found and then titled to what the viewer would guess they would be used for. It is like a child's perspective!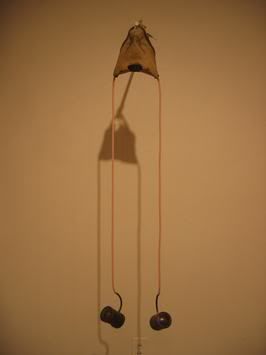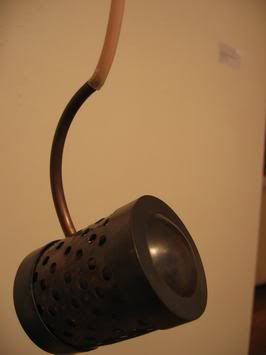 __________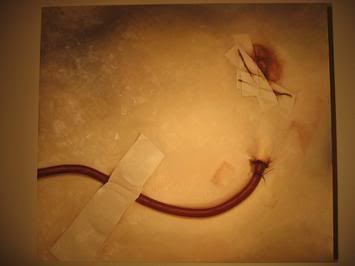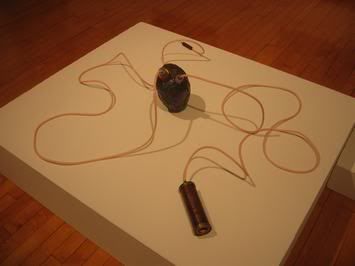 These digital prints were in the front gallery leading into the show...but not included in the show.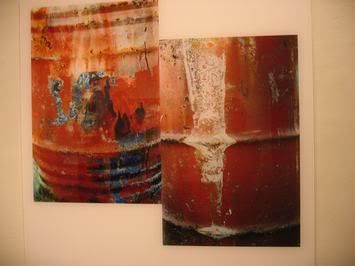 Very typical detroit grit. Nice from a distance but up close they were a bit grainy in quality. To me, they looked like a Scott Hocking print...or somehow related - but then again we live in a city where this kind of imagery is everywhere!