CCS student show
Another fresh batch of optimistic artists have been released into the unforgiving art world. Their blissful arrival began with the opening of the CCS student show, which runs till the end of May. Despite the downpour of rain, the opening night reception proved to be well attended event bringing many downtown to get a first hand look at the new artists' works. The exhibit displays all majors' works so if fine art isn't your forte then there is jewelry, ad design, photography, and car design.
For me the real show is really about the fine art. I noticed this year the senior students were allowed to paint their walls and use their spaces in a more creative way which defined each artist's work. The current collection of work this year shadowed the graduate show at Cranbrook: conceptual design, installations, and varied mediums. Students pushed their ideas and created a coherent body of work. All and all it was a good show. My only criticism is that I would have like to see some painters stand out. With the ever changing fine art department, painting is one area that has taken a back seat with the elimination of a painting teacher in the senior studio class. (But my comments are biased seeing that I am a painter and ex-ccs student.) Some of the up-and-coming fine artists are Miroslav Curovik, Benjamin Kiehl and Nolan Simon. All had thought provoking exhibits that seemed gallery ready. And this may seem so because all have already had gallery shows prior to graduating. Great job guys!
Attending the student show is a great way to see fresh art coming out of the Detroit community. For some, the CCS show provides a starting point to propel into an artistic career. All sale money goes straight to the artist and hopefully will provide encouragement to keep pursuing their talents.

Miroslav Curovik was the fine arts selection's recipient. This means he was "best in show" which wasn't surprising. His
work is truly moving! He is already represented by District Arts and has had some shows under his belt already. He is someone to watch and now
collect before his prices go up. Also check out his bio...he is an interesting fellow.



I liked these crazy ring designs!


Benjamin Kiel has a grouping of soft, yet precisely executed paintings and drawings. From a distance the paper/canvas seems crumpled, but Ben has played a mean trick on you with his talents. His photo realist style has finally come together in this mature collection.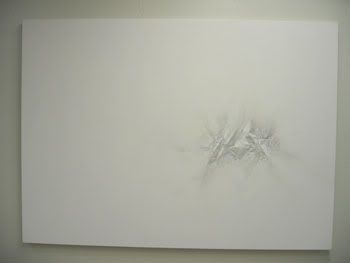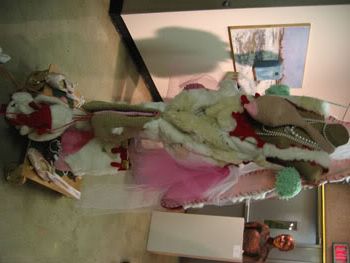 I liked this bundling of stuffed animals and fabric. I think I like it better without the dress form....it reminds me of street light posts that are covered with stuffed animals when a child is killed at the spot.


In a small dark room there is a projection of an organic-leaf-like picture. Then on the dark wall are eye-sized cut outs that behind had the same image. The room has a very specific feel....again this artists are experimenting in new directions.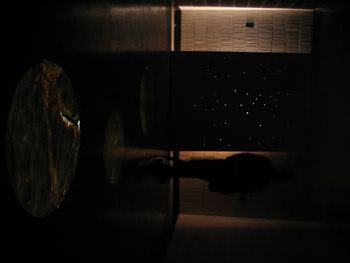 Red dots are always good!


mmmmm....donuts....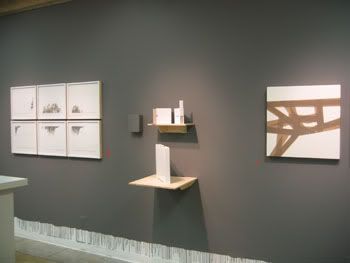 Nolan Simon was one of the students to use the wall as an advantage. Drips of charcoal colored paint lined the wall with work that reflected deconstructed Kline-style subject matter.